Hike Helvellyn via Striding Edge and Swirral Edge for CancerCare
Climbing Helvellyn via Striding and Swirral Edges is perhaps one of the most spectacular walks in the Lake District. The narrow rocky ridge of Striding Edge gives dramatic sweeps down to Red Tarn and Grisedale. However do bear in mind this hike involves a few technical sections that do require a head for heights. We are running two dates for this event; 9th May 2021 and 5th September 2021.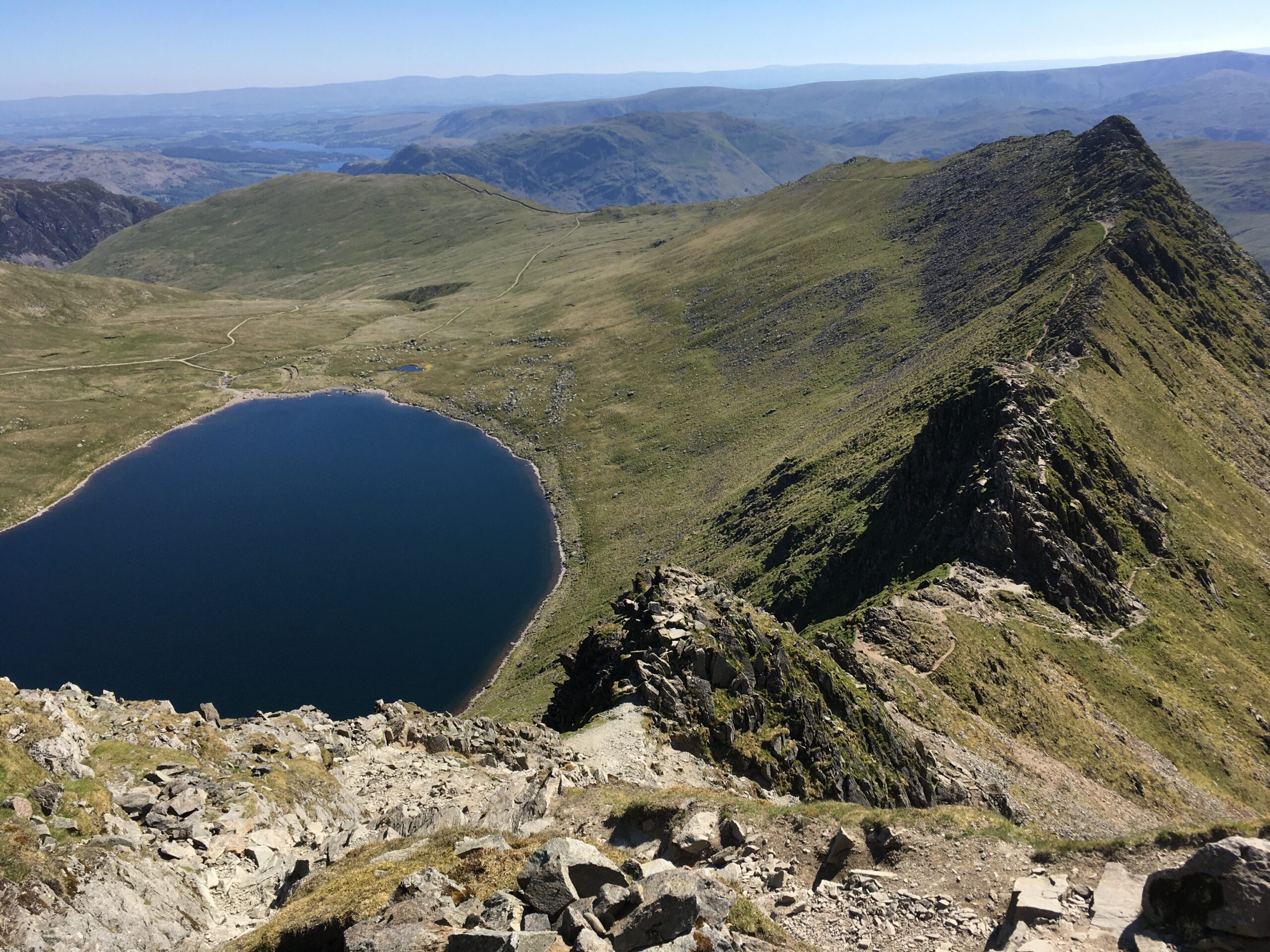 This is what makes the route is so popular!
Setting off from Glenridding the route follows Glenridding Beck before heading up to our first summit of Birkhouse Moor (718m, 2356ft). From here we can enjoy the wonderful views over Ullswater, perhaps the most picturesque of The Lake Districts larger lakes. We then head to the highlight of the day, Striding Edge. Shortly after we rise up to the summit of Helvellyn, and subject to conditions, we can then enjoy views over most of the Lake District. We then head down the less technical, but still challenging Swirral Edge, followed by our final summit of Catsty Cam.
Professional event organisation

Qualified Mountain Leaders

Group First Aid kit with Qualified First Aider(s)

Knowledge & Insight on Mountain Flora & Fauna

Information on Local Landscape and History
Travel to & from start

Personal equipment

Food & drinks
Start time 0900 unless otherwise stated or agreed. All details will be emailed to you after booking.
Start point is Glenridding Car Park, postcode CA11 0PD.
Kit List
The following essential kit is required for this walk. Once a booking has been made, further advice on kit will be included. This may include tips and recommendations, and suggestions on less vital 'nice to have' kit.
Suitable walking boots or shoes.
General hill walking boots with ankle support and sole unit with good grip are ideal.
Waterproof jacket and trousers.
The jacket should have a hood. Shell jackets or insulated waterproof jackets are both good. Insulated ones can determine your choice of clothing.
Suitable clothes for walking.
Wear what works for you, but not jeans! Walking trousers are ideal. A non cotton base layer with wicking properties helps keep you dry and comfortable.
Spare warm top.
A fleece or warm jumper/jacket that you can carry or stow easily is advised.
Food
Snacks as well as a light prepared lunch are ideal. Some easily portable fruit is recommended.
Water/ drink.
Bottle or 'bladder' with at least 1 litre capacity.
Hat and gloves.
The temperature at the walk start may be ambient, but can then be biting cold on the summit – be prepared!
For some this can be a strenuous walk, and conditions can change quickly, which can make the walk harder. You need to have a basic level of fitness and for some this will involve training beforehand. Feel free to discuss it with us before you book! On booking, we will provide advice on any training requirements depending on your needs.
CancerCare would like you to pledge to raise at least £150 in sponsorship to support their work. CancerCare will give you lots of support and advice in helping you to reach your target as well as show the impact your fundraising will make to people needing to use CancerCare's services.
CancerCare has been providing free professional therapy to people dealing with the effects of cancer and bereavement for more than 35 years.
The charity has centres in Lancaster, Kendal and Barrow and offers a wide variety of services including one-to-one counselling, complementary therapy and creative activity groups.
The service is open to family, friends and carers of people with a cancer diagnosis and if someone feels they need support, and meets the criteria, they can refer themselves without first consulting a clinician.
CancerCare has a dedicated service for children and young people with specialist counsellors trained in play therapy. It also runs a weekly peer support group in Lancaster called Re-Fresh which is run by youth workers and acts as a safe space for young people to meet, do activities and have fun with others in similar situations
HELPLINE:
call: 03330 150 628 (charged at standard rate)
email: [email protected]
text: 07860 018 278
www.cancercare.org.uk